Style 1303 - Custom Hand Cut Gaskets
Many a times customers need gaskets that have too hard geometry to qualify for die-cutting. Even more complex cases demand materials that may not be suitable for waterjet and laset jet cutting. To solve these unique requirements, Phelps has vast experience in hand-cutting with the help of precision instruments.
We carry a wide range of materials, so if you don't find your material in the list, please call us @ 1-800-876-SEAL, or
Select "other" in the material drop-box and add notes after clicking on "Request a Quote"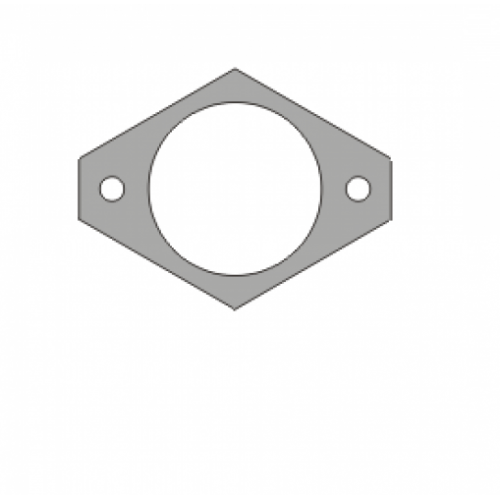 CUSTOMIZE AND SEND REQUEST
Applications
Manufacturers of instruments, strainers, compressors, computers, centrifugal pumps, sound control units, gearboxes, boilers, hand tools, cooling towers.
Commonly Ordered Materials

Gasket Material Selection Guide
Ethylene Propylene, EPDM
NOVATEC 825F Engineered Graphite
NOVATEC 925F Engineered Graphite
Compressed Aramid Fiber With Buna-N Nitrile Binder
Ethylene Propylene, EPDM
Washers, seals, and gaskets
Silos & storage tank seals
Weather stripping & roofing material
Bumpers, architectural & window seals
Medical equipment seals, electrical connector seals
Condensate tubing for HVAC equipment, Compressor Grommets
Seals for electronics & electrical equipment, and outdoor electrical enclosures
Temperature
-40°F/-40°C to 250°F/121°C
Specifications
50 Durometer: ASTM D 2000 3BA 508 C12, SAE J200 3BA 508 C12, MIL R-3065 RS 508 C1
60 Durometer: ASTM D 2000 3BA 608 C12, SAE J200 3BA 608 C12, MIL R-3065 RS 608 C1
70 Durometer: ASTM D 2000 3BA 708 C12, SAE J200 3BA 708 C12, MIL R-3065 RS 708 C1
Elongation
300% - 150% minimum (depending on durometers 50 through 70)
Compatible exposure
Chlorine, salt water, MEK
Ozone, UV, saltwater and weather.
Water, steam, and oxidating environments
Very good low temperature flexibility
Good impact and abrasion resistance
Hydraulic phosphates and silicates, alkali, acids depending upon type and strength
Weight
2.5 lb (50 durometer EPDM)
2.6 lb (60 durometer EPDM)
2.7 lb (70 durometer EPDM)
NOVATEC 825F Engineered Graphite
An excellent steam sheet that works best in flanges
High temperature sealing applications
Specifications
ASTM F 104 (Tests with 1/32" Thickness)
F 38 B Creep Relaxation
22 Hrs @ 212°F (100°C): 15%
22 Hrs @ 392°F (200°C): 35%
F 37 A Sealability
Fuel A @ 14.5 PSI/Gasket Load 1000 PSI: 0.25 ml/hr
F 37 B Sealability
Fuel A @ 9.8 PSI/Gasket Load 500 PSI: 0.5 ml/hr
Nitrogen @ 30 PSI/Gasket Load 3000 PSI: 0.1 ml/min
F 146 Thickness Increase
Oil #3, 5 Hrs @ 300°F: < 3%
Fuel B, 5 Hrs @ 73°F: < 4%
F 36 A Compressibility
@ 5000 PSI Gasket Load: 45%
Recovery: 10%
DIN 3535 Part 6 Gas Permeability
Nitrogen @ 580 PSI/Gasket Load 4640 PSI: 2 cc/min
DIN 52913 Stress Relaxation @ 7250 PSI
16 Hrs @ 347°F: Stress Retained > 6500 PSI
16 Hrs @ 572°F: Stress Retained > 5000 PSI
DIN 3754 48 Hrs @ 75°F Thickness Increase
H2S04 Sulfuric Acid 65% Concentration: 7%
NaOH Sodium Hydroxide 25% Concentration: 3%
PXT Values
For 1/16" Thickness: 350,000 | For 3/32" Thickness: 210,000
NOVATEC 925F Engineered Graphite
Works best in high pressure flanges, pump casings, heat exchangers, lids, vessels, valve bodies and sight glasses
Specifications
ASTM F104 (Tests 1/32" Thick)
F 38B Creep Relaxation:
22 hours @ 212°F (100°C): 12%
22 hours @ 392°F (200°C): 30%
F 37A Sealability:
Fuel A @ 14.5 PSI/Gasket Load 1000 PSI: .20 ml/hr
F 37B Sealability
Fuel A @ 9.8 PSI/Gasket Load 500 PSI: .06 ml/hr
Nitrogen @ 30 PSI/Gasket Load 3000 PSI: .075 ml/min
F 146 Thickness Increase:
Oil #3, 5 Hrs @ 300°F: < 2%
Fuel B, 5 Hrs @ 73°F: < 1%
F 36 A Compressibility:
5000 PSI Gasket Load, 15% F 36A Recovery: 40%
DIN 3535 Part 6 Gas Permeability:
Nitrogen @ 580 PSI/Gasket Load 4640 PSI: .02 cc/min
DIN 52913 Stress Relaxation @ 7250 PSI:
16 Hrs @ 347°F: Stress Retained > 6500 PSI
16 Hrs @ 572°F: Stress Retained > 5000 PSI
DIN 3754 48 Hrs @ 75oF Thickness Increases H2S04
Sulfuric Acid 65% Concentration: 6%
Na0H Sodium Hydroxide 25% Concentration: .5%
Tensile
F 152 Tensile Strength: 1500 PSI
PXT Values
For 1/16" Thickness: 600,000 | For 3/32" Thickness: 260,000
Compressed Aramid Fiber With Buna-N Nitrile Binder
Suitable for potable water applications (flange gaskets)
Resistance to high temperature creep with torque retention
Particularly good in 150 lb., and 300 lb., steam applications
Temperature
700°F Maximum | 520°Continuous | 450°F Steam
Specifications
ASTM F 104 (Tests 1/32" Thick)
F 38 B Creep Relaxation
22 Hrs @ 212°F (100°C): 9.3%
22 Hrs @ 392°F (200°C): 16.9%
F 146 Thickness Increase
Oil #3, 5 Hrs @ 300°F: 5% - 7%
Fuel B, 5 Hrs @ 73°F: 5% - 7%
F 36A
Compressibility @ 5000 PSI Gasket Load: 8.5% +/- 1%
Recovery: 57%
DIN 3535 Part 6 Gas Leak Rate
Nitrogen @ 580 PSI/Gasket Load 4640 PSI: .05 cc/min
DIN 52913 Stress Relaxation @ 7250 PSI
16 Hrs @ 347°F: > 5220 PSI (36 MPA)
16 Hrs @ 572°F: > 4060 PSI (28 MPA)
Hot Compression Test (1/16" Thickness Used For Testing)
7250 PSI @ 68°F(20°C): 8.2% Total
7250 PSI @ 572°F (300°C): 15% Total
Tensile
F 152 Tensile Strength: 1500 PSI
Composition
Fiber: Aramid Blend | Binder: Nitrile
PXT Values
For 1/16" Thickness: 350,000 | For 1/8" Thickness: 210,000
Compatible Environmental
High temperature flange applications (high temp steam, chemicals, gases)
The nitrile binder offers good resistance to various oils, petroleum derivatives
Resistance to high temperature creep with torque retention provides its sealing properties
Request for 1303 | Custom Hand Cut Gaskets