Style 2075 - Synthetic Yarn Packing with Graphite
Phelps Style 2075 compression packing is Centerlock® braided from synthetic yarn . The high temperature lubricant is uniformly dispersed throughout the yarn and thoroughly treated with Graphite. while the lubricant helps in lowering frictional heat and enhance sleeve life, graphite helps in heat dispersion. Phelps Style 2075 adapts well to worn or scored shafts often found in older equipment.
Style 2075 is a very versatile, general purpose high temp packing ideal for storeroom inventory - great for centrifugal, rotary and reciprocating pumps, and some valves.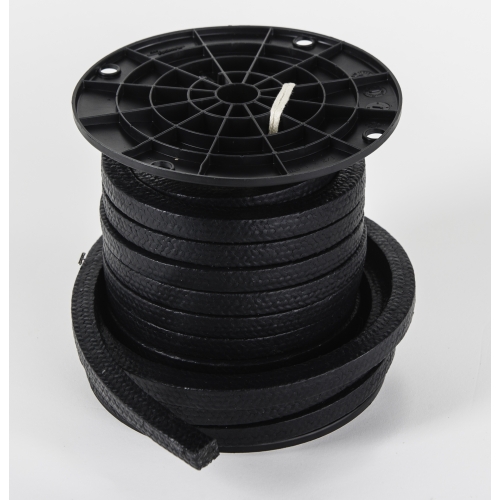 CUSTOMIZE AND SEND REQUEST
Pressure
Rotating Pumps: 350 PSI | Reciprocating Pumps: 1000 PSI | Valve 1500 PSI
FPM
Rotating Pumps: 1700 (Shaft Speed)
Composition
Synthetic yarn
Lubricant
High temperature petroleum compound
Applications
Style 2075 is a versatile compression packing for all inventory rooms.
Equipments:
Rotating & reciprocating pumps, and valves
Rods, plungers, rams, expansion joints, valves
Centrifugal pumps, large equipment like mixers and agitators
Industries:
Food processing
Paper & Pump
Waste water treatment & municipal sewage treatment
Material Advantages
Very versatile, general purpose high temp packing ideal for storeroom inventory
Environment Suitability
Potable water, sea water, brines, sludges, slurries, sewage, waste water
Gases, mild acids & caustics, non-abrasives, oils
Petroleum oils and fuels, solvents, chemicals and liquified gases
Competitor Equivalent
American Braiding: 3000G
Chemstar: 1398, 1430
John Crane: Style 1340
Garlock: 8913, 8909
Palmetto: 1007AF
Sepco: Style ML6402
Teadit: Style 2255
Utex: Style 236, 233