Style 2105 - Flexible Pure Graphite Packing
Phelps 2105 is a pure flexible graphite braided packing that was developed as a direct result of Style 2110. This packing has excellent high and low temperature operating ability. Style 2105 can be ran dry in pumps and withstand extremely high pressure and temperatures in valves. Phelps Style 2105 exhibits heat resistance, chemical inertness, and extremely conformabilty - it is a low friction & self lubricating compression packing.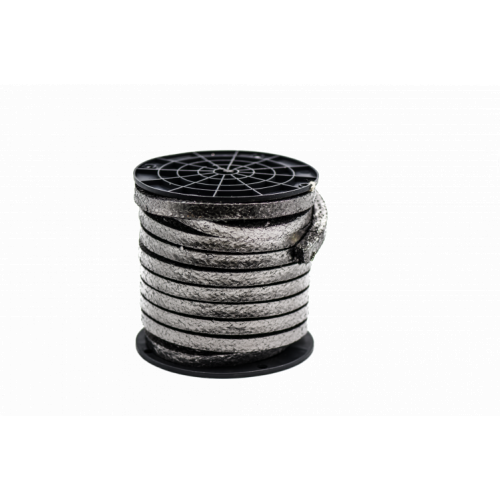 CUSTOMIZE AND SEND REQUEST
Temperature
-464°F to 3000°F
FPM
Rotating pump: 3000 | Reciprocating pump: 390
Composition
Flexible Pure Graphite
Applications
Equipments:
Boiler feed pumps, condensate pumps, hot water circulation pumps, heater drain pumps.
LP steam turbine valves, condensate line valves, manually valves, power recovery valves.
Sootblowers, agitators and mixers, hydropulpers, refiners, high & Low pressure feeders.
Industries:
Power Plants, Pulp & Paper Industry, Refineries & Petrochemical Plants
Wastewater Treatment, Sugar Plants, Marine Services
Material Advantages
Phelps Style 2105 exhibits excellent heat dispersion properties and compressibility.
This packing can be run dry in pumps and withstand dramatic pressure and temperatures in valves.
Environment Suitability
Sludges, slurries, waste water
Air, water, sea water, brines, super heated steam
Petroleum oils, petroleum fuels, solvents, chemicals
Avoid Exposure To
Fuming nitric acid
Severely oxidating environment
Competitor Equivalent
American Braiding: Style 5000
Chemstar: Style 1100 TCP
Chesterton: Style 1400
Crane: Style 1656/G58
Garlock: Style 1300
Palmetto: Style 5000
Teadit: Style 2000
Utex: Style 686