Style 6110 - Twisted Fiberglass Rope
Phelps Style 6110 is a high purity fiberglass rope that is dimensionally stable, non-staining, non-contaminating, and exhibits flame resistance, chemical resistance, and excellent heat dissipation. Style 6110 is soft and flexible, does not burn or smolder, and retains strength at high temperatures. This material has excellent electrical properties, and insulating characteristics.
All these properties makes Phelps Style 6110 fiberglass for thermal protection & insulation as well as static sealing protection. Applications include: boiler, furnace, and oven door gaskets as well as gland packing on explosion proof electrical boxes.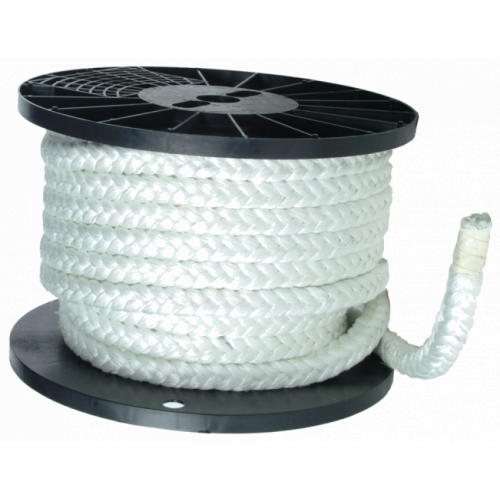 CUSTOMIZE AND SEND REQUEST
Temperature
1000°F / 538°C
Applications
Applications:
Static sealing - thermal protection & insulation in high temperature environments
General purpose caulking and gasket
Sealing strainer in distillation columns
High temperature tying and lacing cords
Equipments:
Grooves, Doors, Covers, Flanges Boiler and generator doors.
Manhole covers, furnace doors, heat expansion joints.
Coke oven door jamb seals, industrial oven, and wood stove doors.
Gasketing around doors of wood-burning stoves.
Crucible packing and pollution control equipment.
Tadpole tape/gasket core ropes.
Environmental Exposure
Organic solvents, most acids, and mild alkalis
Not recommended for
Hydrofluoric acid
Hot phosphoric acid
Wet hydrogen chloride
Competitor Equivalent
Garlock Style 5450