Style 2046 - Graphite/PTFE with Aramid Corners (Bumble-Bee)
Phelps Style 2046 is a unique constrution of Aramid fiber corners and CPL fiber body, which is specifically designed for abrasive applications where the media contains 20% to 30% solids and the particulate size to 50 to 80 microns. This is a range in which neither Style 2024 or Aramid Style 2042 performs exceptionally well. Phelps Style 2046 also works as bull rings with CPL Style 2024 in applications where there are abrasives and/or excessive gland clearances.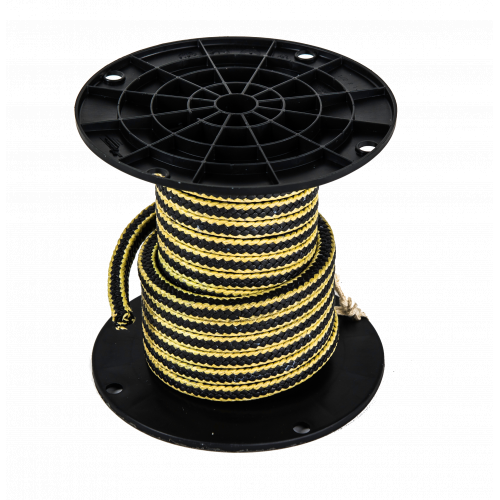 CUSTOMIZE AND SEND REQUEST
Temperature
+440°F / +240°C
Composition
Aramid Fiber and CPL Graphite/PTFE yarn
Lubricant
high temperature inert coating (for breakin)
Applications
Designed for use in pump and valve, and for use in corrosive and abrasive applications
Equipments:
Valves, centrifugal, rotary and reciprocating pumps, mill stock pumps.
Agitators, or any service where strength and good lubricating qualities are needed.
Marine applications including stern tubes.


Industries:
Oil & Gas, Power Plants, Refineries & Petrochemical Plants.
Wastewater Treatment, Sugar Plants.
Pulp & Paper Industry, Marine Services.
Additional Notes
This braided packing is also referred to as "bumble bee"
Max Size
1-1/2" (thickness)
Material Advantages
Extends shaft life and protects from packing extrusion at the back of the gland.
Abrasive resistant, chemical resistant, and extrusion resistant compression packing.
Combines tensile and abrasive resistance of Aramid, and the lubricity and heat dispersion capability of CPL fiber.
Environment Suitability
Air, water, sea water, brines, superheated steam
Sludges, slurries, waste, paper stock, condensate
Petroleum oils, petroleum fuels, solvents, chemicals, fly ash
Avoid Exposure To
American Braiding: Style 8000T-K
Chemstar: Style 165K
Crane: Style C1064
Garlock: Style PM-6K
Palmetto: Style 1359
Teadit: Style 2017
Sepco: Style ML 4004, ML 8004