Closed Cell Sponge Rubber and it's Applications
March 14th at 5:25pm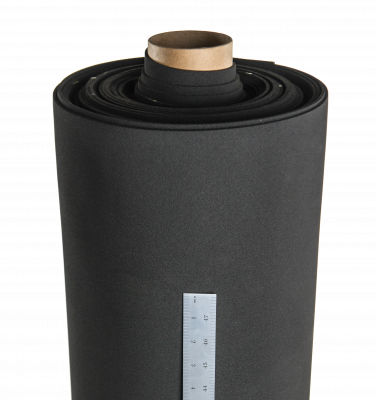 What is a Closed Cell Neoprene Sponge Rubber
Produced from 100% neoprene polymer, most closed cell neoprene sponge products meet UL 94HF-1 flame rating. They are generally serviceable from -40°F to 158°F continuous and withstand 200°F intermittently. Premium closed cell neoprene sponge products will resist light oil contact, ozone, alkalis and acids, making them a good choice for general enclosure door gaskets.
What is a Closed Cell Blended Sponge Rubber
Produced from a blend of neoprene, EPDM and SBR, these grades are the most frequently supplied for general purpose sponge gaskets. If a commercial closed cell neoprene sponge gasket is requested, this would likely be supplied. These products also normally meet UL 94HF-1 and will take -70°F without cracking due to cold embrittlement. The oil resistance will not be as good as on the 100% neoprene sponge products.
What is a Closed Cell EPDM Sponge Rubber
Closed cell EPDM sponge materials will not meet the UL flame rating without additives and they will not withstand oils or fuels. However, they will stand up to outdoor conditions such as water, ozone and indirect sunlight better than neoprene.
Which one of the two has better Compression Set Resistance – Closed, or Open Cell Sponge
Closed cell sponge rubber structure has non-interconnecting cells that contain air. Force applied to these cells causes the air to be gradually squeezed through the thin cell membranes. When the pressure is released, the cells attempt to return to the original shape, drawing air back into the individual cells. Some sponge materials rebound quickly and some rebound very slowly or take a permanent deformation. Materials such as closed cell silicone sponge are more resilient.
Open cell sponges have interconnecting cells, which allow air to pass through them quickly under pressure - and air is drawn back into open cell material faster when the pressure is removed. Open cell foams and sponges are known for fast rebound, and generally return to original thickness
Applications of Closed Cell Sponge
Closed cell sponge has a wide range of applications in a variety of industries. Phelps carries a wide variety of closed-cell sponge materials (including various densities of neoprene, silicone), to support our customers unique applications.
Automotive Industry
HVAC systems gaskets and seals
Carburetor Gaskets
Noise, Vibration & Harmonics Pads
Wiring Harness Gaskets
Lighting Gaskets (Interior and Exterior)
Antenna Gaskets
Vehicle Trunk & Door Sealers
White goods and Appliances
Washer/Dryer Seals
Air-Conditioning Seals and Gaskets
Refrigerator Seals
Humidifier Mounting Pads
Vacuum Cleaner Gaskets
Sound Equipment Padding
Baseboard Heaters
Stereo Speaker Vibration Pads
Dishwasher Gaskets
Lighting Equipment Gaskets (UL)
Electric Sign Gaskets UL)
Construction Industry
Metal Building Closure Seals
Concrete Curing Blankets
Electrical Box Seals
Receptacle Seals
Door and Window Seals
Weather Stripping Lighting Fixtures
Pipe Wrapping
Concrete Expansion Joint
HVAC, Electrical Enclosures & Control Panels, Lighting Industy
Air/Dust/Oil/Water Seals (UL recognized for NEMA applications, Fire/Security Systems)
Gaskets/Weather Strip
Ductwork: Weather strip, Air/Dust
Marine, Rail, Transportation Industry
Hatch Seals
Weather Strip
Conveyor Belt Cushions
Rail Car Repairs
Oil Seals
Other Posts

ElastaGraph - A Revolutionary Metal Gasket Technology
Read Article